Product Description
Spider XT LED Headlights 7 inch Osram chip (pair)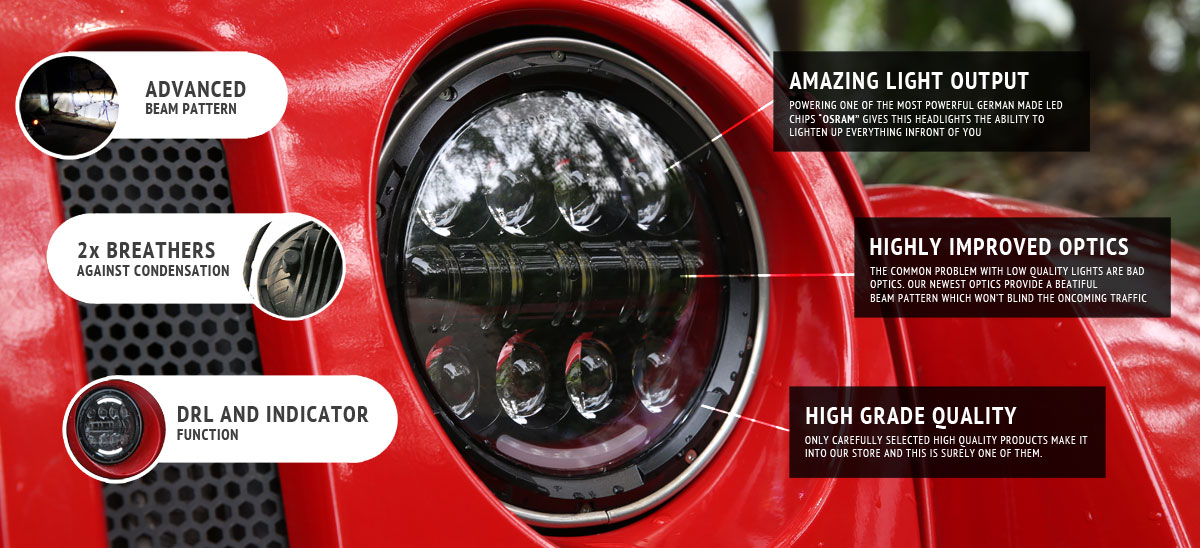 Introducing the all new Spider XT LED Headlights. The most advanced version of the Spider Eye Headlight series on the market. This new headlights have a dramatically improved Low Beam optics allowing 4o produce a good low beam pattern with a clear cut off line. This not only prevents blinding oncoming traffic but also concentraticoncentratingng the light into areas where the light should be.
The poorly engineered optics and almost non existent light pattern has been a problem of lots of cheap low quality copies distributed on the internet. Our goal was to offer headlights which are affordable and have a good light pattern and high quality.
Powering the German Made OSRAM chip 2 breathers and high quality cabling will avoid damage which low grade options normally tend to get. Perfect for 4wd enthusiasts who is after great looking headlights with a low price tag and good quality. The DRL has also an optional amber indicator wiring option. These headlights also  deliver an amazing light output on high beam.
They are fully plug and play and pre wired with a H4 connector. We can also include h13 adapter if you require one.